news
Details

Written by:

Super User

Category: news
Hits: 261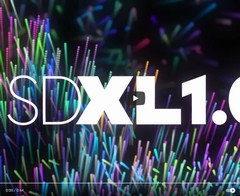 The Stable Foundation has just released SDXL 1.0, a generative model to create pictures.
If you click on the thumbnail above, you will redirected to the youtube video of the stable fundation.
Click here for the profile of SDXL on huggingface.
Click here for the Github page.
How to install SDXL 1.0 in automatic 1111 ?
- Go here: https://huggingface.co/stabilityai/stable-diffusion-xl-base-1.0/tree/main
- Download the safetensors file of SDXL
- Save it in "webui\models\Stable-diffusion" in the folder of automatic1111
- Update automatic1111: make sure it is at least 1.5
(if you experience an error by trying to load SDXL in automatic1111, it is likely because you didn't update the software to a more recent version)
- Run automatic1111 and change the model to SDXL using the normal procedure.
Now feel free to use a native resolution of 1024x1024 !
Details

Written by:

Super User

Category: news
Hits: 342
- Exllama an implementation of Llama has been released. According to the author, it is "designed to be fast and memory-efficient on modern GPUs". And it seems to be able to handle longer contexts. (A test will come)
- AudioPaLM is a project from google that allows to convert speech to another speech in a different language and even to change the accent of the speaker. The link links to a example.
- DragGAN has finally been released. As explained before, DragGAN can modify a picture thank to some kind of vectors of transition (it is me who call this like that)
- Zeroscope V2 is a text to video generator. Click on the link to test the demo on Huggingface. Click here to get a list of the demos of the same user in Huggingface. (There is a way to add the parent projects is Automatic1111).
Details

Written by:

Super User

Category: news
Hits: 305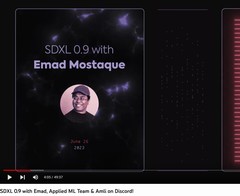 Stability AI, the company behind Stable Diffusion, announced the release of SDXL 0.9, a new diffusion software (like SD 1.5 or SD 2.1), in mid-July.
If you click on the thumbnail above, you will be redirected to the video announcement of the Youtube channel "Stable Foundation" about the release of SDXL 0.9. The 49 minutes video explains the roadmap of the development of the software and the related models. The specification that one needs to have on his computer to actually run it and more...
If you want to read the official announcement, on the website of Stability AI, click here.
If finally, you want to test SDXL 0.9, you have 2 options:
You can go to ClipDrop for SDXL 0.9 (free, without registration but with a queue).
You can also go to Dreamstudio for SDXL 0.9 (free, requires registration, limited number of credits).
(and Btw the video that i link above says that these 2 options will likely be merged in the future)