Text generation
Details

Written by:

Super User

Category: Text generation
Hits: 687
H2OGPT: Another tool to ask questions about your own documents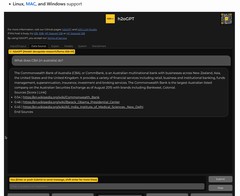 H2OGPT is related to the project H2OAI is a Web UI (which means web user interface) a bit like the oobagooba web ui.
In a matter of a saturday, this project went in my own ranking from "barely usable with poor result" to "pretty decent".
Read more: H2OGPT: Another tool to ask questions about your own documents but on GPU!